Pet-Friendly Flooring In Greater Kansas City
Learn more about the top pet-friendly flooring options for your furry friend! Flooring and More has a number of excellent pet-friendly options for your home.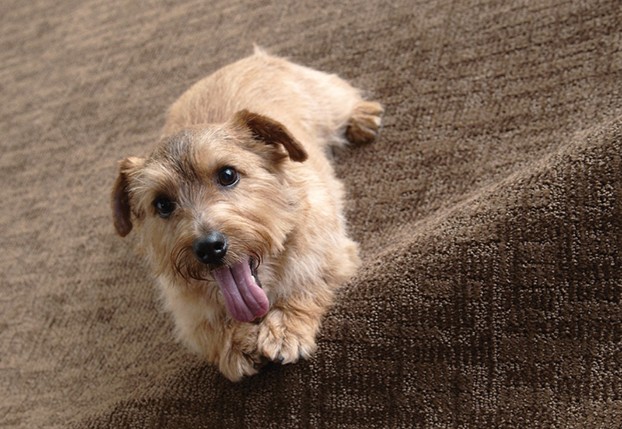 Pet-Friendly Flooring Options
Here are a few pet-friendly flooring options that we recommend: 
Carpet may seem like an unlikely choice, but carpet manufacturers have greatly improved stain resistance protection on the top as well as moisture barriers on the back of carpets. Also, moisture-resistant padding is available to purchase and enhance your carpet performance. 
Laminate flooring is an excellent choice for pet owners. With its built-in scratch resistance, pet paws and claws will not harm your laminate floors. Laminate is tough on stains and accidents too. That means that when an accident occurs on your laminate, you need only wipe it up with a towel to avoid lingering damage. 
Ceramic Tile floors are incredibly durable and long lasting, making them another excellent pet-friendly flooring option. Ceramic tile floors can handle paws, claws, and liquid accidents while remaining attractive and easy to maintain. Ceramic tile is more than capable of handling whatever your pet throws its way. 
Vinyl floors, sometimes known as waterproof flooring, hold up well to pet accidents as they boast advanced resistance to moisture and liquid messes. Vinyl floors are an attractive flooring option that can mirror the look of hardwood or stone while offering advanced resistance to spills, stains, and scratches. All three of these are common occurrences in homes with pets.